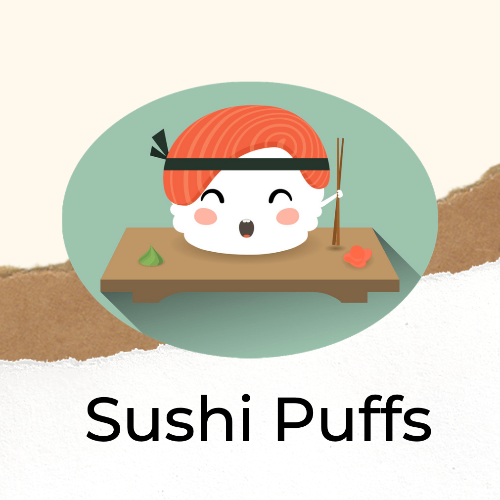 Sushi Puffs
Our vision
We are seeking to increase the protein and fiber content in puffed snack foods. With this in mind, we want to convert fish hydrolysate and mustard seed cakes into puffs, through extrusion processing. These are incredibly nutritious and cheap ingredients but are underutilized as food ingredients. We can believe we can successfully produce and market this product using our food engineering and entrepreneurship skillset.
Our solution
Snack foods contain little nutritional value and a significant amount of hydrolyzed starch which is very high on the glycemic index, leaving consumers at risk of type II diabetes. We are tackling this problem by developing an extruded snack food from mustard seed cakes and fish hydrolysates. Both these ingredients are byproducts, keeping our cost of goods very low, while containing compounds that directly prevent type II diabetes. No only do these flavors work well together the high level of antioxidant activity in the mustard seed cakes, along with extrusion cooking protects the fish hydrolysate from spoilage.
Our market
We are tackling the puffed snack food market in North America; this market's size is 5 billion USD with a 6.7% CAGR. Most of the products in the market are produced through steam extruded corn, with low nutritional value and high glycemic index. The major consumer of these foods are children and teens age 4-14, leaving this younger population at a higher risk for type II diabetes, an ongoing problem in North America. There is strong evidence that a higher protein alternative will be attractive within the market as companies such as BFY Brands sales grew by 52% in 2020 after launching a high protein puffed snack.
About the team
Sushi puffs is a food science research team at Cornell University with expertise in food engineering, food waste processing technology, and chemical engineering. Team members Patrick and Apratim are the co-founders of Bagasse Beverage Co., a company founded through Cornell's University eLab accelerator and the most novel prize winner of the 2020 Digital Agriculture Hackathon hosted by Cornell and WUR. Together they have immense knowledge of food science and entrepreneurship.